Public Speaking Tips From The Pros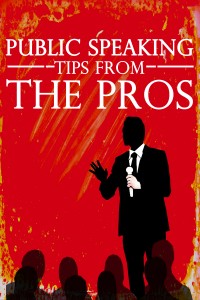 In this short, practical and easy to read book which I co-authored with other public speaking experts, we share with you the best public speaking tools, tips and strategies so that you become the kind of speaker you've always dreamed of being.
You will learn how to create, practice and deliver presentations that entertain as well as inform and educate your audience.
In this book we cover……
How to hook your audience into your speech within the first 30 seconds
How to close your presentation with power and passion
How to build your speech from the ground up
How to add humour to your speech and keep your audience laughing as well as learning
The best ways to incorporate statistics into your presentation
How to create sexy slides for a presentation
How to deliver a dynamic presentation
How to make your audience hungry with a compelling introduction
Eight principles for practicing your presentation
Six tips for overcoming your fear of public speaking
What to do when things go wrong
Great value at just £2.99! ($4.84)
What's the Number 1 Success Killer for any presentation?Find out how you can avoid it...
and get your free download of the unique 7-Part Winning Presentations Mini-course now
DOWNLOAD NOW
LATEST POSTS
LATEST NEWS