As a Master Level Coach Cath has obtained the highest credential (MCC) from the International Coach Federation which places her in the top 4% of credentialled coaches worldwide. She has successfully helped hundreds of leaders and coaches to overcome whatever is holding them back so they can be the best they can be and live an extraordinary life to make a bigger difference in the world.
She is a highly successful and experienced Transformational Leadership Coach, Speaker, Author and Persuasive Presenting Trainer and through her innovative Training,Coaching and Mentoring Programmes she helps you to achieve results quickly whilst effecting transformational change and you go beyond what you thought was possible.
What makes her approach different is the unique and exclusive set of tools and techniques she has developed in her career of over 30 years at the top of her profession. She approaches coaching, mentoring and training from a totally different perspective from other providers and focuses on the "essential non-essentials" – the things that most people think don't matter, that actually do.
It's this unique approach that makes a huge difference for her clients which accounts for their increased success. They significantly increase their impact and lead a calmer, happier and more fulfilling life.
Cath in action
Cath's knowledge, experience, humour and expertise are evident in all of her workshops and coaching programmes which have been described as "awesome", "inspiring" and "life-changing".
Cath began her career as a Physics Teacher and was the first person to be appointed as an Advanced Skills Teacher on Merseyside, an award only accorded to the top quarter of a percent of high school teachers in the UK at the time.
In this role she trained and developed senior management teams and team leaders across the country and was instrumental in introducing Coaching for School Leaders into many schools. Her experience ranges from teaching high school physics and training over 5,600 educationalists and senior leaders to coaching international sportspeople and business professionals and presenting, both nationally and internationally.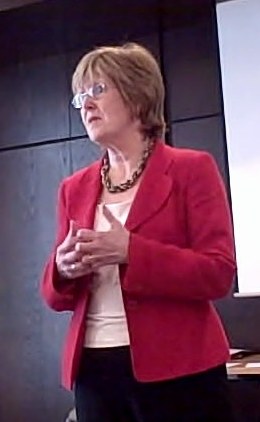 She has worked with five of the top trainers in the world in Presentation Skills, Education and Coaching and is an expert in Learning and Communication.
Having suffered from the health problems prolonged high stress levels cause, as a result of spending over 25 years of being "a man in a frock", she now promotes and coaches a way of leading that increases effectiveness without burnout. Women learn to lead with ease and grace in a way that is congruent and authentic which enables them and their businesses to thrive.
She also helps leaders to eliminate their personal limiting beliefs around presenting so they become truly confident, influential and persuasive speakers.
Cath is passionate about helping other coaches and provides Coach Mentoring for those who want to step up to a higher level of coaching expertise.
Qualifications
Master Certified Coach (MCC) with the International Coaching Federation (ICF)
Certified ICF Assessor
PrinciplesYou Certified Coach
High Impact Coaching Enhanced Practitioner
Qualified Voice Dialogue Facilitator  (The Life Training Institute)
Advanced Diplomas (Distinction level) in Team Coaching, Executive
Coaching and Leadership Coaching  (The Coaching Academy)
One of many Certified Coach
One of many Certified Trainer
Internationally Certified NLP Trainer
Internationally Certified Master Practitioner of NLP
Trained in the use and application of D.I.S.C. Profiling
Certified in Advanced Neurological RepatterningTM and Master Hypnosis
Qualified Performance Consultant and Master Results Coach
Qualified Advanced Presenter and Ultimate Trainer
Advanced Skills Teacher and Trainer
Postgraduate Certification in Education (P.G.C.E.)
BSc (Hons) Degree in Physics