Is Yours a Business Presentation for All Seasons?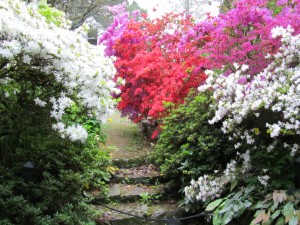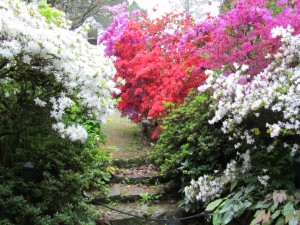 Those of you who  follow me on social media like Facebook, Twitter and LinkedIn will know how I love flowers because you'll have seen the photos I regularly post!  And this is my favourite time of year when spring flowers are in bloom. Last weekend we went to Bodnant Gardens in   North Wales and saw the most  gorgeous display of flowers. The colours were absolutely amazing as you can see from the photos. And it really made me feel good to see it.
We were there last October too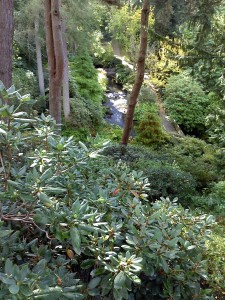 and as you can see  the show was equally stunning but in a different way.
The gardeners take a great deal of trouble to plan their planting so that no matter what time of year you go there the show is amazing.
They plan in advance what is most appropriate for the particular time of year and place in the garden and make sure that things are done in the right order and at the right time so that they get exactly the result they want to achieve. They have a garden for all seasons that presents a beautiful show   whenever you attend.
Do you have a business presentation for all seasons?  or do you have just one that covers everything?
Do you plan out in advance exactly what needs to go into your business presentation so that you get exactly the result you want whatever the audience?
or do you have just one presentation that is provided for everyone you encounter regardless of who they are or whether it is appropriate at that particular time?
In the same way that it takes time and effort to plan, organise and plant the gardens at Bodnant for a superb display all year round that make people feel better, it takes time and effort to plan, organise and deliver a superb business presentation that engages people every time.
If you want to have a fabulous garden that is worth seeing at all times of the year then the individuals elements have to be chosen carefully. And if you want to have a business presentation that is worth seeing every time then it has to have different components that are approriate and will engage  different audiences in different situations.
If every time I went to Bodnant the display was exactly the same then I probably would only go once or maybe twice but the variety keeps it fresh and memorable.
And it's the same for business presentations. They need to have variety and be fresh and engaging each time if you want to keep people interested.
I encourage my clients to have a bank of several different business  presentations ready to go and here are some of the things you can do to create variety…..
Listen to it from your intended audience's point of view….. would you want to hear the same thing every time?
Think about how you could tweak one that you already use so that it lasts for
60 secs
5 mins
10 mins
20 mins
30 mins
If you provide a range of services or products then rather than trying to talk about all of them, vary which ones you talk about each time
Have a number of  stories to vary the content.
Give different examples each time of successes you have achieved with your clients.
This will give you a number of different components that you can swap around and mix and match and it will keep it fresh for your audience ( and you!) …….. and in that way you'll have a business presentation for all seasons.
Until next time,
with best wishes for your success,
Cath 🙂