Abraham Lincoln, the Oscars and Your Presentation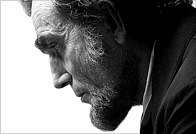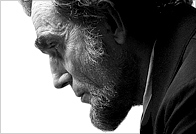 It's awards season again. The Bafta and Oscar nominations have appeared with a lot of overlap between the two and as usual they create a lot of discussion about which films and performances you think deserve them.
The film Abraham Lincoln is nominated for 10 Baftas and 12 Academy Awards including Best Actor for Daniel Day Lewis who has already won The Golden Globe for his performance in the title role. The film is based in part on a biography of Lincoln, and covers the final four months of Lincoln's life.
When you ask people what Abraham Lincoln is famous for it's usually two things – being assassinated and The Gettysburg Address.
is considered to be one of the greatest speeches in American history. It is remarkable for two things- the principles it embodies and it's brevity.
Lincoln spoke with " a few appropriate remarks" summarising the American Civil War in just ten sentences, concluding with  the now immortal lines " government of the people, by the people, for the people".
And it took him just over 2 minutes to deliver!
It is a supreme example of how less is more and shows how to get your message across in a very powerful way  whilst being brief and succinct.
And your presentation should do the same thing.
Aim for the same sort of brevity.
What are the key elements of your message that you need to get across?
What would you say if you only had two minutes?
Because when you focus like this it means that you sift out all of the unnecessary information and hone in on the key message that your audience needs to get.
If only all Oscar winners would do the same thing in their acceptance speeches. What a difference that would make!
Until next time,
Cath
If you like this post please share! Thanks.
You can read the full text of Lincoln's The Gettysburg Address here;
http://showcase.netins.net/web/creative/lincoln/speeches/gettysburg.htm