Video: Is Your Business Message As Powerful As This?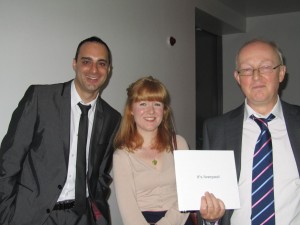 I make sure that I support my clients wherever and whenever I can and so was delighted to be able to be there when Jon Egan and Mo Maghazachi, Directors of Aurora Media Ltd presented as part of the recent launch event for The Liverpool Plan.
We worked together a few months previously to improve their presentation skills  and the bid presentation in preparation for pitching for the contract.  Jon and Mo have taken what they have learned and used it creatively to produce something remarkable, powerful, and unique.
It's fantastic to see their ideas come to fruition and the results are truly exciting  and inspirational.
(It's a privilege to be able to help people to shine and I absolutely love it!)
Their message is simple yet profound, as all the very best ones are, and it's encapsulated in just two phrases
" It's Liverpool"   and "I'm Liverpool"
Have a look at this…..
[youtube]http://www.youtube.com/watch?v=CQ6Pkx80Fio&feature=player_embedded[/youtube]
:
In essence it's about " allowing people to tell their story" and it "enables people to express something original and significant about their, or their city's, personality".
It's all about connecting and engaging people all over the city and I know it will have a huge impact on how the city and it's people are perceived.
And what a fantastic model and process to use for presenting yourself and your business!
How would your business message change if you applied those two simple statements?
and here is an easy way to start to begin to use this approach …………
Keep it simple.
Identify and celebrate what's unique  about you and your business.
Let people know what makes you and your  business different.
Be yourself and let your personality shine.
and in that way you will begin to stand out more because your message will be that much clearer and you will more easily connect and engage with your message.
Until next time,
with best wishes for your success,
Cath 🙂
Cath Daley
p.s. If you want to find out more about It's Liverpool,how you can get involved and see the video "I'm Liverpool "then go to  www.itsliverpool.com