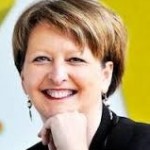 Edwina Dunn is a successful entrepreneur and co-founder of Dunn Humby, the company who originated the Tesco Clubcard and other loyalty programmes.
Before she retired from the company in 2011 Edwina had commercial responsibility, growing it to an organisation of 1500, reaching 350 million customers in 25 countries.
In February 2013 she launched the not for profit "What I See" Project- an active on-line space where women's voices can be heard and amplified, to celebrate and inspire everyday role models from all walks of life.