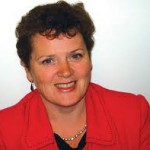 Sue O'Brien is the CEO of the Norman Broadbent Group and since assuming that role in 2008 she has grown the business to become one of the world's leading executive search firms.
With a reputation for driving profitable results, effective business strategy and the creation of a high performance culture, she firmly believes that authentic leadership is as important as understanding a balance sheet.
She is a Non Executive Director at Walpole British Luxury, Chairman of the Unlock the Cure Board for Breast Cancer Campaign and is a Trustee of KidsOut.
She is a founding member of the Women's Business Council, an independent council commissioned by the Rt.Hon Teresa May in 2012, to look at pragmatic and workable recommendations to prevent women from being excluded from making a positive contribution to the UK Economy.
In January 2014 Sue was awarded the OBE for services to Gender Equality in the Workplace and voluntary services to the community.