What You Can Learn about Presenting from Ladies' Day at Aintree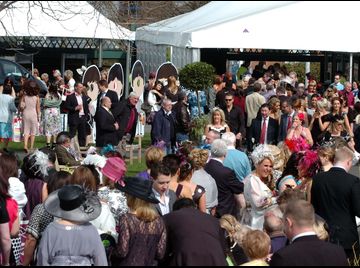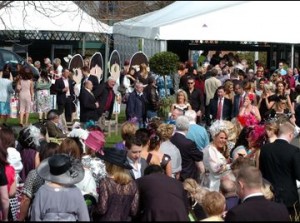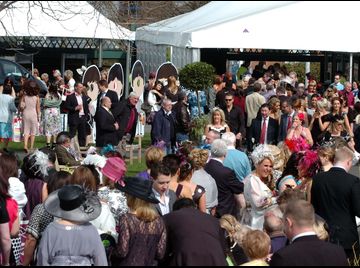 Friday is always Ladies' Day at Aintree, an opportunity for many females to get dressed up to the nines to go to the races. I was in Liverpool in the morning and saw some of them on the train on the way there and then walking to my meeting saw many more. They were dressed in bright colours, skirt levels high, low and in between, with heels I would no longer contemplate!! and resplendent with their "fascinators"(for those of you who may not know what one is – it is a piece of headware commonly made with feathers, flowers and/or beads. which attach to the hair by a comb, headband or clip – thanks wikipedia!)
I saw  a group of about eight women who had obviously enjoyed a champagne breakfast, or several,and one really stood out. Why? because she wasn't being badly behaved or outrageous as some of them were and she wasn't wearing a fascinator.She was dressed, not in the latest fashion that wouldn't have suited her, but in a beautifully cut suit in the most gorgeous shade of blue and she was wearing a very elegant hat. She really drew my attention because she was doing something different. She wasn't dressed in the same way as the rest of the crowd in the background and she was attracting people's attention. She was getting noticed.
In terms of your business are you one of the crowd in the background or do you stand out by the quality of what you do and by doing something different?
When you are presenting yourself and your business what do you do that stands out? that separates you from the crowd?
What attracts people to you? What gets you noticed?
Now you know that my take on it is that you are always presenting yourself and your business whenever you are talking to people about what you do and so here are three really easy ways to stand out from the crowd in different presentation situations…..
1. When you are business networking:
Go with the attitude that you are meeting and making new friends, rather than collecting business cards. Be totally focussed on adding value for the people you meet and don't talk about your offer. Think instead about what you can do for them.
2. In 1-2-1 meetings :
Listen, really listen. Most people when they are engaged in a conversation don't actually listen actively to the person they are talking to. They are too busy thinking about what they want to say, or getting ready to interrupt. You can make a real difference by consciously listening to every word that the other person says – it will be quite  unusual for them.
3. Giving a more "formal" type of presentation
Give a PowerPoint free presentation! Yes that's right- instead of showing slides spend the time having a conversation with your audience. Spend the time really connecting with them rather than bombarding them with too much information. Many people use PowerPoint because they think it's expected when very often it isn't. Not relying on it will really make you stand out.
because do you really want to be in the background or do you want to attract others and stand out in your marketplace?
Until next time,
with best wishes for your success,
Cath
🙂
If you like this post please share using the social media buttons above.
Thanks.